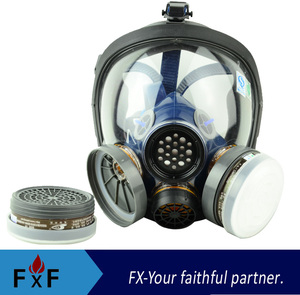 Respiratory Protective Equipment (RPE) is a device worn to provide breathable air in a hostile environment.

Respiratory protective equipment (RPE) is used as a control measure and is vital that the
A Breathing Apparatus (BA) is protective safety equipment allowing the wearer to work safely in an IDLH (Immediately Dangerous to Life or Health) environment. It does this by providing air to a sealed mask from a stored container or cylinder. The cylinder can either be carried by the user or stored at a remote location with the air being supplied via an airline. Typically, a Breathing Apparatus has three main components: a high-pressure tank (e.g. 200bar to 300bar), a pressure regulator, and an inhalation connection (mouthpiece, mouth mask or face mask), connected together and mounted to a carrying frame.RPE is designed to reduce exposure to as low as reasonably practicable when exposed to harmful polluted air.selected RPE is adequate and suitable.
Filters, and other forms of breathing protection, make safe breathing possible in a toxic atmosphere. They can prevent pollutants, hazardous particles, carbon monoxide and other chemicals from entering the respiratory system. Wearers can instead safely breath in oxygen from their cannister. Filter devices can also prevent the growth of fungi and other biological substances which could be a danger to breathing.
Face masks shield the face from heat, dust, gas, and other hazardous material which could do damage to the facial features. Face protection should offer a clear, wide field of vision. The lens is normally made of strong, heat resistant, synthetic materials such as polycarbonate and silicone.
When working in dusty or vaporous environments where protection against inhalation is necessary, safety masks are desirable to wear. They are generally quick and easy to strap on and provide flexibility and comfort. They offer best protection against non-toxic nuisance substances. There are vertical and horizontal fold designs and some have valves to reduce hot air build-up.
Fengxin Safety Products Co., Ltd has various Breathing Apparatus, safety masks for you to choose. We dedicated to make safety equipment easy and accessible for every enterprise and individual.